Graphically Speaking has been providing professional graphic design, printing, publishing, internet marketing, promotional products and quick print services to tropical North Queensland since 1988.
NEWS!
Upload your full colour or B/W files to output on either our networked Canon ir-ADV C5045 high speed Colour Laser Printer, Canon 3570 high speed B/W copier and KIP 3000 Plan Printer.
Go to the Upload Page for details.

FOR SALE
This extremely profitable, well established business is now FOR SALE - CLICK
From concept, through design to the finished product - for everything from books, brochures, flyers, business cards, stationery, proposals, menus, stickers, displays, wedding and funeral stationery and promotional products.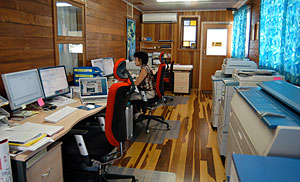 Our in-house quick print services include colour laser copying / printing, high speed photocopying / printing, plan printing/copying, laminating, book binding and typesetting. A high speed internet connection and in-house servers allow us to efficiently receive and manage your emailed print and plan print files for output by us.
We have a large installed base of digital design and printing equipment and we are continually updating to keep pace with the ever developing digital media world. Our computer hardware and digital printing equipment is state of the art to provide the best quality and quickest turnaround.
We are dedicated to providing our customers the highest standard of service and the best possible product.

Design | Internet | Printing | Publishing | Quick Print Services | Promotional Products
Upload Files | Contact Us | News | Online Payments | Home
---
21 Moriarty St
PO Box 1674
Innisfail QLD 4860
Australia

Ph:
Fax:
Mobile:
Email:

(07) 4061 6105
(07) 40611786
0418 184 805
webmaster@gspeak.com.au

Website by